Tired of the inconvenience and neck pains that comes when holding your phone for several hours trying to watch a YouTube video or your favorite TV Series? This adjustable neck phone holder is all you need today. 
Not only is this adjustable phone holder convenient, but it also helps you multitask or even lie on bed as you watch on your phone without straining your muscles. 
Multiple studies have concluded that holding your phone and slouching your back for prolonged hours while doing it is harmful to your health. This could result to fatal neck injuries or even hunchback. 
With this hands-free phone holder, it is like getting yourself a second pair of hands. The flexibility that you will get from this device is unmatched. 
You can eat, drink, or even wash your dishes while still having your phone to watch your favorite YouTube channels.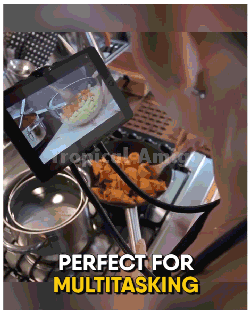 Besides just being a neck phone holder, this device can be used as a stand as well. It's flexibility allows it to be bent into any shape including a stand-like shape. It can also be used a s selfie-stick. The list of uses is actually endless.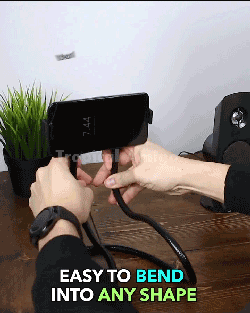 Features!
Free your hands: Perfect for reading, movie & video watching in bedroom, car, anywhere. Ideal for Vlogging, Selfies, video chatting, watching a movie on the plane, working out at the gym, and more.
Multi-functional:

 You can strap this wearable free hand mobile phone holder around your neck. Buy one to use as a phone desk stand and another one as a bed phone stand or anywhere else that you can imagine.

Highly Adjustable & Smart Design:

 DIY design, easy to adjust to any shape you like, just free your imagination.

Portable size:

 Light and compact, easy to carry anywhere. 

Ergonomic: This Phone Holder easily locks into place and supports 360-degree rotation giving you a comfortable angle, it also our eyes keep an appropriate distance to protect our vision.
Universal: Compatible for all size of phones from 4 to 7.3 inches